Pilot
Season 01, Episode 01

Airdate:
March 6, 2011
Writer(s):
Matt Olmstead and Nick Santora
Director:
Gavin Hood
Previous:
None
Next:
Collected
Pilot is the first episode of the A&E Drama series Breakout Kings. it originally aired on March 6,2011 in the United States. In this episode convicted murderer August Tillman escapes from prison, Veteran U.S. Marshals Charlie Duchamp and Ray Zancanelli decide to take an unorthodox approach to fugitive apprehension by forming a special task force comprised of the three most elusive fugitives they have ever captured. Convicts Lloyd Lowery, Philomena Rotchliffer and Shea Daniels agree to assist in the case in exchange for time off their sentences.
Convict Escape
Edit
At Fishkill Correctional Facility in Beacon, New York convicted murderer August Tillman is counting how long he can hold onto a mattress, As a preparation for his planned escape. At his job in the prison, he take defective licence plate and hides them in a stash instead of properly disposing them. One month later, he sets off his escape plan. While on laundry duty, He is tasked with taking out the laundry. Where he has the opportunity to hang on under a Van, using the license plate to create the illusion if him not being under the car when the guards check. He holds on until the van has driven a distance from the prison area. Once that's done he lets go, and bludgeons the van driver and his Co - Worker. Leaving the Driver dead and the co-worker critically wounded.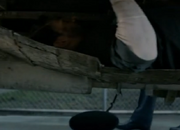 The Pursuit
Edit
later former U.S Marshall Ray Zancanelli is informed that his earlier proposal of forming a team consisting of criminals, that's purpose is to catch escaped criminals, is now ominously under acceptance. He is also introduced to Charlie Duchamp, an agent at the Criminal, Program, Analysis (C.P.A). Zancanelli needs to be reporting to him if his proposal is to be under acceptance. The fact that the C.P.A is a "desk job" leads to Zancanelli acting very non acceptance and patronizing towards Duchamp. However, Ray agreed to maintain his role.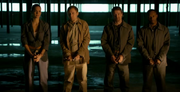 They then assemble their team which consists of gangster
Sean Daniels
, highly intelligent, but obnoxious gambler
Lloyd Lowery
, poacher
Fritz Gunderson
, and con artist
Philomena Rotchliffer
. The team are then informed about how the deal works. If they assist and contribute in catching escaped fugitives, they spend their time incarcerated in
Maybelle Federal Correctional Facility
, along with having their sentence reduced by one month for each fugitive they successfully capture. If they attempt to escape their sentence will be doubled and they will be sent back to maximum security. They all accepted with great distinction. After they settle down and set up their equipment, they are introduced to
Julianne Simms
an civilian acting as an analyst, who according to Ray must be treated with respect. Julianne informs them that
John Phelps
a former friend of Tillman has been violently killed in his house.
The Team then head over. They find out what vehicle registration plate he is using, However without knowing that Tillman is listening to everything they are saying through a recording device. As a response Tillman installs an new registration plate. Soon after they learn that there was a robbery involving three of Tillmans former high school friends. However they can only identify two of them. Aware of this the team obtain a yearbook, which they use to try and identify the third suspect. While doing this they eat at a dinner, where Fritz Gunderson is caught for snatching a bladed weapon. The team identify the other suspect as James "Jimmy" Cantrell, and head over to his house. However when they get their he is dead and nailed to chair.
However Julianne suspects that there were others involved, and soon after Ray discovers the recording device, taped under the table. The team then decides to question the bank staff in order to determine if any of them could have been an accomplice in the robbery. First they question bank teller Carmen Menjavar, who after much debate and questioning is revealed to be innocent. Next they suspect bank teller Kyle Ferro, who they unfortunately can't locate. However they find out that Kyle, along with his brother Frank own a bar. Philly and Lloyd go in acting as husband and wife, in an attempt to find out information about Tillman and Kyle. However Frank eventually caught them in the act, enraged and psychically stronger than Philly and Lloyd combined. Frank nearly strangles Philly to death, however the rest of team interact, after Lloyd sent a text indicating they were in danger.
Next the team head over to Kyle's house, Where they realize Kyle has been abducted by Tillman. Next they visit the hospital and view the intake photo of Kyle's wounds after the robbery. They then realize that Kyle's wounds are identical to the female van passenger's wounds during Tillman's escape. And after further research find out her real name is Gwen and she is married to Tillman. They then pursue her vehicle (Tillman is sitting in the back, Kyle in the front, and Gwen's driving). The vehicle then stops at the gas station. Where Shea and Philly acting as a couple, purposely, slightly ram Tillman's car. In an attempt to lure Tillman out of the car. At first they try to persuade Tillman to come out from the car. But when that fails, they offend his wife, which angers him and lures him from the car. Once he gets out he spots Ray with his firearm pointed at him. Ray orders him to release the girl, However Philly gazes steadily at the little girl, and sees that Tillman has a bomb strapped to here. Once Ray acknowledges this, he allows Tillman to enter the car. Once Tillman Is about to enter the car, Charlie shoots him twice. Tillman falls, and reaches out for the detonator... until Ray steps on his wrist, stopping him from moving an inch more, and picks it up. The cons then Head Back to Maybelle.
Main Cast

Guest Cast
Aaron Berg as Eddie Vaughan
Jason Cerbone as August Tillman
Mark Day as Jimbo Cantrell
Tony Nappo as Frank Ferro
Irene Poole as Katrina Ferro
Jordan Harapiak as Alyssa Ferro
Joel Rinzler as Joel Ferro
John Tokatlidis as Tommy the Dealer
Production Notes
Edit
The three different prisons where Philly, Shea, and Lloyd are initially incarcerated were all shot at an abandoned glass factory in Toronto. The building, a massive warehouse-like structure, was completely empty before the Breakout Kings crew arrived. Not only did they manipulate the building to appear as three different prison locations, they shot all of the footage in a single day.
All of the barbed wire featured in the pilot is made of rubber to prevent injury in the event that an actor comes in contact with the material.
Jon Phelps' home, located in Baltimore in the episode, was actually shot at an old manufacturing building (circa1850), now converted to a photographer's studio, in Toronto's historic Liberty Village neighborhood, an epicenter for the Toronto art's community.
Director Gavin Hood fell in love with one of the paintings featured in Jon Phelps' home that features an alien's head. The Production Designer eventually purchased this painting and gave it to Gavin as a gift.
Music Featured
Edit
Song: "Today's Teardrops"
Artist: Fountains Of Wayne
Album: Out-Of-State Plates

Song: "Fly To The Angels"
Artist: Slaughter
Album: Mass Slaughter: The Best of Slaughter
Song: "Full Clip"
Artist: Gang Starr
Album: Full Clip: A Decade of Gang Starr
Song: "Little Miss Mischief"
Artist: Big Papa and The TCB
Album: 12-Gauge Insurance Plan
Community content is available under
CC-BY-SA
unless otherwise noted.